GWLN NEWS
This year we look at resiliency, inclusive leadership, bias and the brain, every day strategic thinking, accelerating technology and adapting to our new world.

An added plus - thanks to eLeadership Academy, with each registration you enter to win 1 of 4 enrollments in the program series:
- eLEAD ($1,250 value)
- eCOACH ($1,250 value)
- eLeaderHUB ($550 value)
- eFOCUS ($390 value)

What are the obstacles holding women back in advancing to leadership roles in credit unions?
What are our members saying! What is your credit union doing? What are industry leaders saying?

All of this and so much more in the
GWLN Pink Paper WE for SHE

.

To view the online version, click here.
To download a pdf version, click here.


Across the globe, women continue to face increased challenges due to gender inequality, including health disparities, pay inequity and violence (both sexual and/or racial).

As a result of the gendered economic impacts of the pandemic, 47 million more women will be pushed into extreme poverty in 2021, and gender poverty gaps are projected to widen in the coming decade.



In the lives of each other

In the lives of credit union members

In their communities
Virtual Events
eLeaderHUB - Resilient Leader Series
A complimentary webinar series for GWLN and WYCUP audiences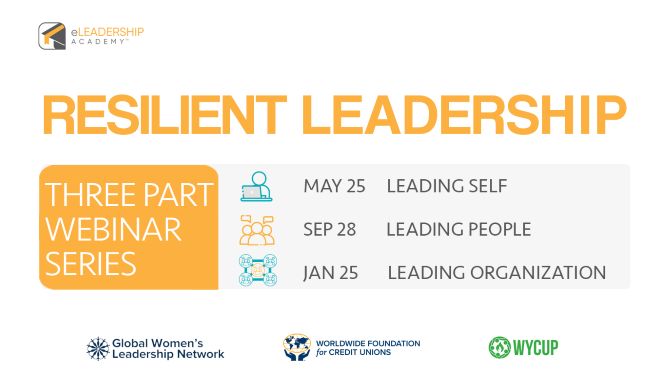 Get a taste of the eLeaderHUB program and learn how to strengthen resilience for yourself and your team. In this three-part webinar series, Neuroscience of Leadership expert and founder of eLeadership Academy Sandra McDowell will share insights on how to lead yourself, others, and your organization with brain-based leadership techniques. The Resilient Leader Series will give you the confidence to lead with the brain in mind and thrive in the face of change.
Are you having a Sister Society meeting?
Let the GWLN community know by adding it to our calendar of events! If your meeting is upcoming, we will highlight it on our homepage along with a brief description of your speaker/topic. We can't wait to hear of all of the amazing conversations that will occur in 2021!